People think dogs are dangerous? Nothing can be as cruel as the Human Animal!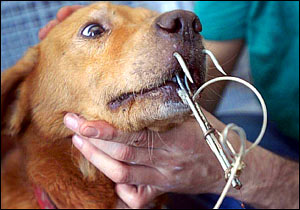 Cruel ... dog with hook through snout
By IAN HEPBURN
http://www.thesun.co.uk/article/0,,2-2005450117,00.html
STRAY dogs are being skewered on hooks and dragged behind boats as live shark bait, The Sun can shockingly reveal.The cruel practice takes place on French-controlled Reunion Island in the Indian Ocean, where Prince William spent two holidays.
A six-month-old labrador pup was recently found ALIVE with a huge double hook through its snout - like the dog above - and another through a leg.
The pup was found in a coastal creek and is thought to have somehow freed itself from a fishing line.
But other dogs and kittens have been chomped up and swallowed by sharks.
The RSPCA plans to petition the French government, demanding an end to the hideous torture.
Update:
Bait monster off the hook
Horrific ... labrador with hook through paw
By IAN HEPBURN
http://www.thesun.co.uk/article/0,,2-2005460101,00.html
SHOCK new pictures of a pup used as shark bait were revealed yesterday as the man behind the atrocity walked free from court.
The little labrador had a wired hook driven through a paw so it could be dragged through the sea to attract sharks.
Suffering ... dog
It is a different pup to the one pictured in The Sun last week with similar hooks in its snout and leg.
Our exposé of the horrors inflicted on strays on French-controlled Reunion Island, near Mauritius, led to the court appearance of Jean-Claude Clain, 51.
Monster ... Clain, left, in court with lawyer
The dad of three was convicted of cruelty. But more outrage erupted yesterday after he escaped with a puny three-month SUSPENDED jail sentence.
Paul Littlefair of the RSPCA said: "We would have hoped for a far stronger deterrent. This is very disappointing."More than 33,000 Britons have signed an RSPCA petition demanding an end to the savagery.
The pup in our picture is recovering and has been adopted by a family.